Vacfiller 10
PACKAGING LIQUIDS IN SMALL SERIES
Applications :
To meet the demand of packaging in very small volumes, these workbench modules were designed for sampling, R&D, product launch with low investment and a level of quality equivalent to market players with higher volumes. Simply and economically designed these packaging machines for liquids in small series can be easily included in pharmaceutical, food and farming, cosmetic and chemical laboratories.
General description :
Composed of two independent modules to place on the workbench:
-> Filling and sealing
Compatible with two types of fine-tipped ampoules :
– Flackpull® double-tipped ampoules, bottles or capped ampoules
– Fillable volumes from 1 to 30 ml.
Simple to use :
– Rapid learning curve and intuitive.
– Manual loading and unloading.
– Automatic filling cycle
– Sealing by heat-sealing or tying
– Rapid change of format -> short preparation times
Stuffing machines – capacity 10 crystallisers / hour (speed based on tap water)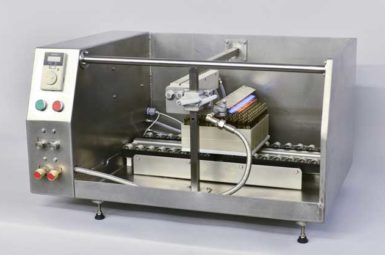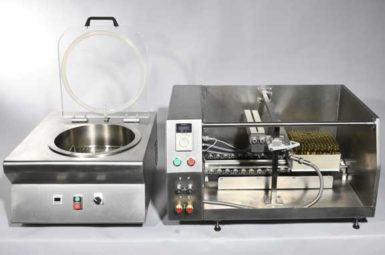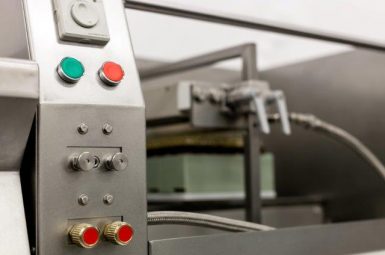 Propane
220 volts 50Hz / 16A
Cold water
Hot Water
Piping for waste water
Technical characteristics
Standard construction compliant with BPF
Automatic filling cycle
Simple and rapid settings
Manual lighting and extinguishment of the flame
Front protection screen in Securit glass
Dimensions of the filling module: 600x600x400 mm
Dimensions of the sealing module 800x600x500 mm