Vacfiller – Engrilleuse
SEMIAUTOMATIC PACKAGING MACHINE FOR PLACING AMPOULES IN CARBOARD HOLDERS
Applications :
Placed at the end of Vacfiller® 100, 200 or 300 production lines, this machine can handle any volume and type of ampoule. Connected to a pack filling machine, it is ideal for regular supply. This machine is ergonomic and extremely easy to use. It boosts productivity by limiting downtime and avoiding heavy manual labour.
General description :
This machine provides an essential secondary packaging operation: placing ampoules in cardboard holders for placement in packs.
This is an adaptable machine which is compatible with different ampoule formats.
It is equipped with :
– An adjustable holder storage unit ;
– A forming/opening unit which adapts to the dimensions of your holders ;
– A hopper/wheel unit which adapts to the dimensions of the ampoules and holders.
Easy to use :
– Easy, intuitive operation ;
– Manual loading of holders and ampoules in storage unit ;
– Automatically places ampoules in holders ;
– Variable operation speed ;
– Quick format change.
Options :
– Detect and signal non-conform ampoules ;
– Check for ampoules in the holder ;
– Check for unfilled ampoules in holder ;
– Eject non-conform holders ;
– Ink jet print batch number on holders.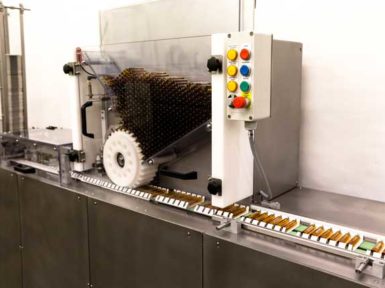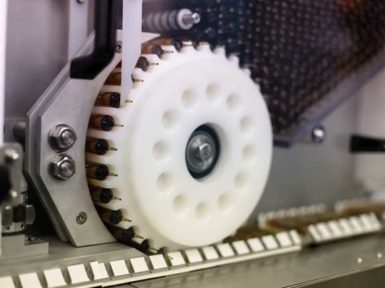 380 volts "-phase 50Hz
Filtered compressed air, 6 bars, if holder ejection option
Technical characteristics
Standard construction
Stainless steel frame
Complete ampoule format kit, reducing the need for machine setting.
Dimensions: L 2,500mm x W 600mm x H 1,800mm