Vacfiller 300
AUTOMATIC FILLING LINES FOR FINE-TIPPED AMPOULES
Applications :
Designed for high-volume industrial packaging requirements this machine provides regular production quality compatible with the performance required by industry. Due to its simple and ergonomic design, this packaging machine limits downtime and unproductive time and meets the requirements of pharmaceutical, food science, chemical sectors.
General description:
Line composed of three modules which make up the core machine :
-> Filling plus sealing + testing for water tightness.
Additional modules :
-> washing -> pre-drying -> sterilisation -> racking -> placement into sachets.
Compatible with two types of fine-tipped ampoules :
– Flackpull® double-tipped ampoules, bottles or capped ampoules ;
– Fillable volumes from 1 to 30 ml.
Simple to use :
– Rapid learning curve and intuitive ;
– Manual start of batch by operator ;
– Manual loading and unloading ;
– Crystalisers packed in pairs ;
– Rapid change of format -> short preparation times ;
– Auto-controlled module cycles ;
– Automatic washing and drying of tips ;
– Variable speed conveyor ;
– In-situ cleaning .
Physical machine with a capacity of 300 crystallisers per hour (rate based on tap water).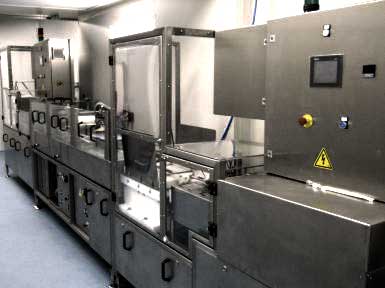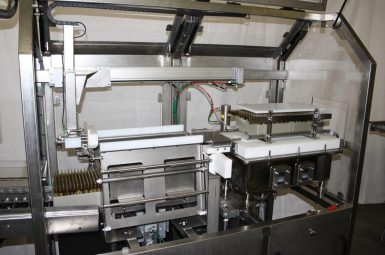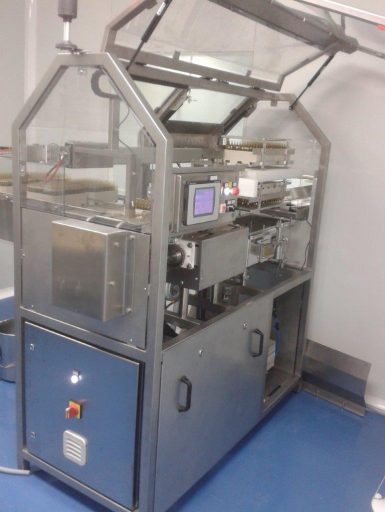 Propane and compressed or propane, compressed air and oxygen depending on the model of burner (pressure, 1 bar)
220 volts 50 Hz 16 A and/or 380 volts 50 Hz 20 A
Filtered compressed air at constant 6 bars
Regulated nitrogen under pressure,maximum one bar to serve as neutral atmosphere*
Connection to water cleaning / evacuation system
Cold water
Hot Water
*optional
Technical characteristics
Standard construction compliant with BPF
Easy and rapid setup – modules marked with an index number
Auto-controlled lighting and extinguishing cycle of the flame*
Flame-detection guaranteeing operator security
Horizontal safety screen in Securit glass
Rapid dismantling of vat tubes and accessories for cleaning
Liquid-ring vacuum pump (water partially or totally recycled)
Dimensions: length 7000mm, width 600mm, height 2000mm
Maximum production rate: 300 crystallisers per hour (rate based on tap water)
Outside dimensions of the crystalliser 202 x 202 mm
Rapid change of format