Vacfiller 100
MANUAL FILLING LINE FOR FINE-TIPPED AMPOULES
Applications :
Designed to meet the requirements of filling fine-tipped ampoules, this line was built to obtain the same regular production quality of its higher-volume sisters. This physical packaging machine "produces" while limiting downtime and unproductive time and meets the requirements of pharmaceutical, food science, chemical sectors.
General description :
Line composed of two modules which make up the core machine :
-> Filling and sealing
Additional modules:
-> Seal watertightness checking -> washing -> pre-drying -> sterilisation -> racking -> placement into sachets
Compatible with two types of fine-tipped ampoules :
– Flackpull® double-tipped ampoules, bottles or capped ampoules ;
– Fillable volumes from 1 to 30 ml.
Simple to use :
– Rapid learning curve and intuitive ;
– Manual loading and unloading ;
– Automatic filling cycle ;
– Closure by heat-sealing or tying ;
– Rapid change of format -> short preparation times.
Physical machine with a capacity of 75 crystallisers per hour (rate based on tap water).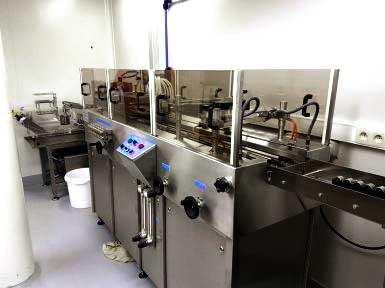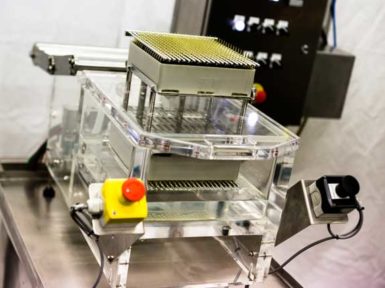 Propane and compressed air (pressure 1 bar).
220 volts 50 Hz 16 A and/or 380 volts 50 Hz 20 A.
Filtered compressed air at constant 6 bars.
Connection to water cleaning / evacuation system.
Cold water
Hot Water
Technical characteristics
Standard construction compliant with BPF
Automatically-controlled filling cycle
Easy and rapid setup – modules marked with an index number
Auto-controlled lighting and extinguishing cycle of the flame*
Flame-detection guaranteeing operator security*
Horizontal safety screen in Securit* glass
Vacuum pump
Dimensions: length 4000mm, width 600mm, height 2000mm
Exterior dimensions of the crystaliser 202X202 mmRapid change of format
*optional